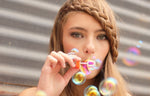 LOOK OUT FOR THESE HAIR TRENDS IN 2017
It isn't just fashion that sees a change of style with each and every season, hair seems to as well. Whilst many hair styles seem to stick around, there are always new twists on their look and old favourites making a comeback into style.
2017 is no exception. With new ideas, different takes on classics and some timeless styles making a re-emergence it is already shaping up to be a pretty awesome year for hair!
Want to know more about the hairstyles that have already proven popular or are yet to make an appearance this year? Take a look through some of our favourites.
The updated braid
Okay, so braids are not exactly a new look, but it seems that 2017 has it's very own take on how they should be finished. Whilst previous years have definitely taken a more neat and tidy approach to braids, this year we have already seen a much more messy, loose approach to how they are presented. Ideal if you are not exactly the worlds most talented braider.
Super sleek hair
It is time to dig out those GHDs ladies, and this time we are not talking about for curling. Instead, this year is all about the straight do. Sleek and shiny, straight hair has been seen on plenty of catwalks already, taking us back a few years to those teenage times when straight hair was all the rage.
Contour colouring
Have you tried out contouring for yourself yet? If you are not sure whether you are able to master this makeup technique, then maybe you should think about trying out contour coloring instead. This particular technique uses highlighting and targets particular sections of your hair, all in order to make the most of your features. Pretty clever if you ask us.
These are just some of the trends that 2017 is bringing us. We are excited to see more of what could happen this year and where the world of hair may head!