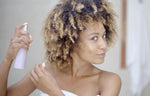 OUR FAVOURITE DRY SHAMPOOS
It can be one of life's biggest frustrations when your hair washing days don't line up well with your social events. It's happened to us all. But fear no more. Here's our five favourite dry shampoos to restore your day-old hair and tame the frizzy ends.
Not only can you skip your monotonous hair routine, but you can be sure that your blonde shines bright all day long too! Moroccanoil's Dry Shampoo Light Tones contains UV-protecting violet undertones that balance the unwelcome brassy tones in your hair.
This one is a game changer for all you brunette babes. Label.M's Brunette Dry Shampoo uses natural rich starch to disperse the oil and refresh your look. It also doubles as a perfect matte texturiser for a silky soft finish to your hair.
Go on hit the snooze button because when you wake up you can easily transform your lifeless locks into shiny and healthy hair with Wella Professionals EIMI Dry Me Shampoo. This clever formula contains tapioca starch to dissolve the oils. It's suitable for all hair types with a light floral scent, which delivers the right amount of oomph to your style.
Once you've tried Redken's Blow Dry Two Day Extender you'll wonder how you ever lived without it. This easy to apply powder revitalises that two, three or even four day old blow-dry and creates a long-lasting matte texture. Perfect for styling up-dos by providing extra control!
The KMS California Hairplay Dry Touch-up is a not only a girl's best friend but a fully-fledged member of the squad. Take this hair hero with you on a night out to touch-up your glam, bouncy tresses without affecting the style. Lightweight silicone cares for your hair on the surface and antioxidant grape peppermint refreshes at the roots.