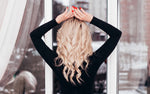 Going Blonde? Here's what you need to know!
Going Blonde?
Here's what you need to know!
We all want and love blonde hair because it's fabulous ofcourse. But have you considered everything you need to know about applying bleach before heading to your stylist?
Blonde is amazing, all the different styles and colours got us going crazy, especially with the summer days approaching. Brighter and lighter is the way to go during the summer season.
Before you book your appointment be sure to pop into your salon for a consultation so that your stylist could offer you the best advice on what and what not to do depending on the current state of your hair and what you can and shouldn't expect from your blonde service.
Here are some things you should know before starting the bleach journey;
1. Be realistic
Going from dark to blonde is definitely possible but realistically it's a journey and won't happen overnight. It's impossible to make this transition in one appointment without damaging the hair.
We also need to keep in mind that everyone's hair is different. So just because your friend went light in a day doesn't mean you would too. Hair will only lighten to as light as it could go and no good stylist will take your hair to its limit.
It's always safer to take your colour transition in stages
2. Aftercare
Without proper aftercare, your blonde hair will quickly become dry and discoloured. Advances made in hair treatments and colouring services over the years have made it easier for stylists to safely push the limits of hair colouring but that does not mean that bleach doesn't and won't damage your hair.  
There are many treatments and home care products available to curb the effects of processed hair. We strongly recommend that you book in for treatments before and after your colour service as well as purchase salon professional products to help maintain your colour and keep that brassy tones away.
Don't forget to ask your stylist to recommend the most suitable salon products for your hair type and colour.  
3. Budget
Knowing and understanding the price of your transformation is most important. Keep in mind that the lighter you go, the longer the process which means repeated trips to the basin and repeated trips to the salon if your colour goal wasn't met during the first colour service.
If your goal is to go as light as possible as quickly as possible then you should be prepared for the cost that comes along with it whether it be in or out of the salon. You will most likely have to make more than one trip to the salon as well as purchase really good salon professional products for homecare.
If you have a budget for your transition from dark to light you would need to share this budget with your stylist before going ahead.
4. Haircut
It's important to consider and plan your cut before entering the salon for your colour service. If you have gone for highlights, balayage, or any sort of ombre and decide to do a cut after the service you might risk cutting off sections that serve a purpose.
Make sure your stylist is aware of your desired style before she starts with colour to avoid cutting of lightened sections that were meant to stay.
Last but not least – there is no colour like a salon colour! do not, we repeat, do not consider a DIY blonde job! Box dyes will not and cannot deliver the results you can achieve in salon.
Visit any Style Bar hair salon for a free consultation from a qualified hair stylist.