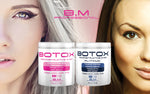 Introducing BM Botox Hair treatment
Forget all your hair worries with this frizz free one day treatment.
What is BM Botox?
BM Botox is a 45-minute-deep conditioning treatment which works to restore the natural beauty of damaged hair. The treatment leaves hair much smoother and healthier than before and ensures easy to manage, frizz free, and lustrous hair every day.
It is a quick rejuvenating Keratin treatment for your hair that delivers instant results and is perfect for hair that needs a quick fix to boost moisture and shine, added strength and reduced frizz.
People with finer hair might find that a Brazilian or Keratin treatment may be too heavy for their hair type, if so, Botox is a good alternative. The treatment can be used as a touch-up between Brazilian treatments. BM Botox won't give you the super straight hair like a Brazilian blow-out would, but it promises to leave hair much smoother than before. 
Hair Botox is suitable for all hair types but is mostly aimed at those with very fine, dry, coloured, bleached, dull, lifeless, or fried hair full of split ends.
APPLICATION PROCESS
The application time is really short and won't take up too much of your time. It is a 45-minute-deep conditioning treatment and could last between 2-3 months with the use of sulfate-free hair care products.
Hair Botox is a filler of essential nutrients like vitamins, amino acids, and anti-oxidants that effectively penetrates the cuticle to restore hair from the inside out.
The treatment fills gaps and breakages in the hair shaft, works to restore lost protein and helps keep hair smooth, healthy and strong.
WHY BM HAIR BOTOX?
Contains collagen, protein, keratin and 12 oil extracts
Leaves your hair feeling smooth, silky and tamed for 4-6 weeks
Free from harsh chemicals which means side effects are considered to be very unlikely
Short treatment time that lasts around 45 minutes 
RECOMMENDED FOR:
Split ends
Damaged hair
Frizzy hair
Hair straightening
Fine hair, lacking volume or luster
BM Botox Hair treatment is now available in selected Style Bar hair salons. Ask your stylist for more info.