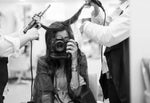 WHAT YOUR HAIRDRESSER WANTS YOU TO KNOW
26 JUN

WHAT YOUR HAIRDRESSER WANTS YOU TO KNOW

 

1. Book a consultation first

Are you after a big change or is it your first time visiting a new salon or even a new stylist? Most salons offer consultations free of charge and will happily take time to ensure you are both on the same page – both with what you want and with what your budget is.

Source images from magazines, Pinterest and Google Images since your version of dark brown and the stylist's version of dark brown might vary with 3 shades. Look for celebrities or people who have a similar skin colour to you as well as hair types.

Ensure the look you are after is easy to maintain so that it is not a huge bill every time you visit. Luckily, with the Balayage and Ombre being trendy, women can go a lot longer without having to colour their hair (at least for those of us without the pretty silvery greys popping through at the roots).

Revealing your deepest, darkest hair secrets at this point is a must. Years of box-colouring your hair can do irreversible damage and stain to the hair. If your stylist is aware of this she can better prepare and treat your hair. Removing box-colour can take a few sessions to ensure you end up with the desired result.

 
2. KNOW THE DIFFERENCE BETWEEN PERMANENT & SEMI-PERMANENT
Don't be fooled by the word "permanent" – there is always a level of fade 2 to 3 weeks in, despite us using the correct products.
Permanent is used to cover those pesky greys or to change your colour, while semi-permanent is more to refresh the mid-lengths to ends of your hair and to add shine. 
3. 
INVEST IN PRODUCTS FOR AT-HOME CARE
Your stylists will probably recommend that you use a hair mask once or twice a week and to use a heat protection product before any styling. You can believe them, these items really do make a huge difference to your hair and its condition.
Invest in professional products to maintain your salon-colour. Keep in mind, however, that these products offered at salons are going to be more expensive than regular drug-store brands.  Still, we promise the difference will be huge in terms of the quality of product and, more importantly, the results on your hair. 
We recommend:
Some of our favourite heat protection sprays:
Enjoy your pampering!