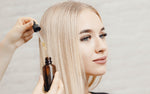 Keep your bleached hair healthy!
A good hair care routine will help fix the damage and keep your hair in the healthiest condition. 
Bleaching your hair will leave your hair feeling dry, stiff and lacking moisture. The golden rule about keeping your bleached hair healthy is to use regular hair masks and add lots of moisture. 
Protein and moisture are the names of the game. These will hydrate your strands and keep your hair blonde and fresh.Try not overdosing on either of the two.
Rule #1 Find a good stylist
The health of your hair is just as important as your colour. Finding a good stylist is key to healthy hair. Leaving bleach on for hours or having to redo colour in one day could be a nightmare for your strands! A good stylist will offer you the best advice to suit your hairs needs.
Rule #2 lay off the heat styling
Try and limit the use of styling tools as much as possible. Intense heat can and will only cause more damage to your already bleached hair. If you have to use tools make sure that you use a heat protector.
Rule #3 Your products are important 
Your products play a big role in the upkeep of your colour as well as the health of your hair.
If you going to do a bleach you should be prepared to spend some bucks on home care maintenance to keep your looking and feeling fresh.  
Using blonde and colour care products will keep your colour from going brassy or dull. Try and use these at least once/twice a week.
Rule #4 Treat, treat and treat again
Using a hair mask regularly is your go to fix for bleached strands. A weekly mask is really important and can be done in salon or in the comfort of your home.
Olaplex is a great treatment for treating bleached/blonde hair. Olaplex repairs the hair from within by rebuilding bonds that have been damaged by chemical services. Olaplex treatments may be done in-salon if available or you can purchase these products online and use them in the comfort of your home.  
Alternatively, there are many other in-salon or DIY hair masks that you could try and use at least once a week to keep your hair in good condition and help fix those dry and brittle end results of bleaching.  
Rule #5 schedule your wash days 
Everyday hair washing can strip your hair of all its natural oils could be really bad for your hair especially if you recently had a bleach or chemical service that already drained the life and natural oils out if it.
You also don't want to go too long between washes which could create dry and brittle ends.  
If possible, a good wash plan would be 3 times a week at most. This will help with the health of your hair and also keep your colour looking good a teenie weenie bit longer.
Rule #6 regular cuts
Trimming your hair regularly can be a huge bonus when it comes to split ends and damaged hair strands. This way you will help keep your split ends at bay and also avoid the damage from splitting further before having them removed.
Rule #7 Remember your oils!
Oils are the perfect hydrating product for your ends when they are feeling dry. They work perfectly to smooth out dry and frizzy hair and keeps your hair tamed all day. For best results apply oils to damp or styled hair.
Here are some good product recommendations for blonde, brittle, dry or coloured hair:
*Products are available to purchase via our Style Bar online store.
Visit any one of our Style Bar salons for a free consultation from a qualified stylist.