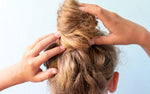 Hair breakage and how to slow it down
We have all dealt with hair breakage at one time in our lives and know that it can be a total nightmare! Although it might be impossible to completely illuminate or stop it from happening, there are some preventative measures you might want to put into place to help slow it down or prevent them from happening. 
Causes of breakage:
Mechanical/manual - Combing or manipulating

Physical - Caused by chemical treatments such as Brazilian blowouts or chemical colour services
Once you've figured out the cause of your breakage you need to put a stop to it immediately. Changing hair habits that cause breakage can save your hair and ease the breakage. 
Just like our skin, we need to learn the best way to handle our hair. Knowing what your hair likes and dislikes is very important and can allow for gradual changes to avoid breakage and other hair problems. 
Here are some preventative tips to consider: 
Pre-pooing treatment is a thing! 
Coconut and olive oil could be a good way to prevent breakage and maintain your hair. 
Weekly deep conditioning could add an extra boost of moisture. 
Detangling could be a killer
Hair is most fragile when wet. Try detangling before shampooing. Always remember to choose the best detangling tool for your hair. 
Removing split ends is the only way to prevent them from splitting further causing damage to the rest of the strand and not just the ends. 
Our hair needs the perfect balance of moisture and protein. 
Know the difference between moisture and protein and ask your stylist which one you need more of. 
Daily ponytail styling and using this hairstyle as your go-to style can cause friction on the strands and may lead to breakage which will create frizz and fly-aways. 
I'm sure you heard the saying before, but here it goes again. A healthy scalp means healthy hair. Cleansing your scalp regularly and keeping it moisturized can prevent hair loss and scalp irritation.
Your ends might need some more attention than the rest of your hair. They are the oldest and most fragile parts of the hair and need some extra TLC. 
Give your hair a heat break. Try and reduce the amount of heat used when styling to avoid further damage. 
Visit any Style Bar hair salon for a free consultation from a qualified hairstylist. Click here for salon details.