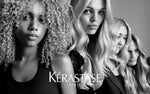 INTRODUCING KERASTASE BLOND ABSOLU
Introducing the all new Kerastase Blond Absolu range, the ultimate answer for all blondes.
Bleaching the hair leaves it naked and vulnerable to damage and colour fade. The Kerastase Blond Absolu range provides ultraviolet care for bleached hair and is specially formulated with a unique combination of potent hyaluronic Acid and Edelweiss flower to preserve your bright look.
The range is designed to hydrate sensitized hair, protect hair from oxidation, instantly neutralise brassiness and boosts colour luminosity for bright and shiny blonde hair.
Blond Absolu provides healing care for hair that is 97% stronger qnd 92% more hydrated, with instant color neutralizing for 8x more luminous blonde.
BATHE
Bain Lumira – Hydrating Illuminating Shampoo
The gel Bain cleanses high lightened hair gently, detoxifies from pollution and removes dulling agents.
Key benefits:
– Detoxifies from pollution
– Hydrates sensitized hair
– Smooths hair from root to tip
– Illuminates blonde colour
*Removes 12.5% more pollution particles than a normal shampoo
Bain Ultra-Violet – Anti-Brass Purple Shampoo
Provides instant colour-active power to neutralize brassy tones in very light or grey hair, keeping the colour cool and warm.
Key benefits:
– Instantly neutralizes brassy tones
– Protects from oxidation and pollution
– Restores shine and softness
– Boosts colour luminosity
*May be used with Bain Lumiere for a second, colour-correcting cleanse
TREAT
Cicaflash – Intense Fortifying Conditioner
Cicaflash offers the restorative hair repair of a masque with the lightweight finish of a conditioner.
Key benefits:
– Instantly fortifies the hair
– Reconstructs the fiber
– Prevents breakage and erosion
– Deeply moisturizes without weight
*Leave in for 5 minutes, following your Blonde Absolu bain
Masque Ultra-Violet – Colour Correcting Purple Mask
This rich mask offers powerful colour correction to all levels of faux-blonde hair without staining your hand or shower. Ultra-caring, nourishing ingredients restore sensitized, lightened hair while neutralizing brassy tones.
Key benefits:
– Neutralizes brassy and yellow undertones
– Reconstructs and nourishes the fiber
– Protects from oxidation and pollution
– Restores shine and softness
TEXTURE
Cicaplasme – Universal Healing Heat-Protecting Serum
Complete healing in a leave-in serum. Hyaluronic acid, edelweiss and UV filters nourish and protect blonde hair for extra softness and colour stability, even against pollution, sun exposure and heat styling.
Key benefits:
– Fortifies and smooths fibers instantly
– Prevents breakage
– Protects against heat and pollution
– Regenerates fiber overnight
*Use Cicaplasme as a nourishing night treatment, blow dry balm or finishing serum.
Get yours on promotion today.
Blond Absolu is now available at all Style Bar hair salons at 30% off when you purchase any 3.
Promotion is valid up until 31 May 2019.
*While stocks last
*T's & C's apply