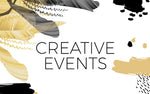 STYLE BAR CREATIVE EVENTS – JUNE 2019
Style Bar has decided to host creative days at each and every salon so that our stylists may have the opportunity of showcasing what they have been taught when attending the inhouse color, cutting and styling education days.
How do these creative days work? Each salon has a specified date in order to close down their store, gather some models and create a style that tells their very own style story.
For the month of June, 4 stores took to the floor and put the training to work.
Cape Gate
Paarl
Tygervalley
Montclare