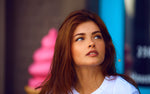 AUTUMN 2019 COLOUR TRENDS
Have you been searching for a new hairstyle but have no idea where to look?
Nothing can bring on the urge to get yourself a new do more than the beginning of a new season. With tips and ideas from the latest fashion ramps, we've put together some of our favourite hair colour trends that we think would dominate Autumn/Winter 2019.
Living Coral
A-lister, Julia Roberts, and many other celebrity figures have been trying out a shade that looks a lot like the 2019 Pantone colour of the year – Living Coral.
Faded pastel
The faded pastel hair trend has been doing its rounds. It's more of a washed out colour with some vibrance rather than the brighter unicorn styles from 2018.
Cool Brunette
Baby fine highlights on the frame of your face,  mid-lengths, and ends of your hair. It Works on everyone with brown hair and could almost pass as your natural born colour.
Dirty Brunette
This is the perfect balance between cool and warm. Illuminated with neutral highlights. It's natural looking with some darker blended pieces for a more neutral finish. With the right tone, this shade could work on everyone from blonde to brown.
Dark blonde
Are you brunette and want to go lighter? Or blonde and need to go darker?. The dark blonde shade is low maintenance, pretty and at the same time a great way to winterize your strands by giving your old highlights a new look.
Dusty Copper
Red/copper has always been a go-to for many but this season we're seeing more of the gorgeous red shade toned down!
Orange
We've seen many celebrities like Cardi B, Nicky Minaj and Teyana Taylor going for the more outstanding Orange tones this season. Will it be an ongoing trend? let's see!
Creamy/antique Blonde
Creamy blonde tones are filled with subtle warmth. They are more manageable and less maintenance than your platinum blonde tones and seems to be a favourable trend this season.
Hair colour trends always tend to shift with the season and this season might just be all about rich dark hues and complimenting them with a touch of lightness.
Some colour tips:
It's all about the right tone for you
Be sure you diligent with the upkeep
Maintenance is key
Colour safe conditioners should be your best friend.
Add some Olaplex to your routine to protect and strengthen bleached hair
Blended roots are the Bestway to avoid regularly filling in new growth
Find the perfect shade for you by visiting any Style Bar hair salon for a free consultation from one of our qualified stylists.
Click here for all salon details and locations.