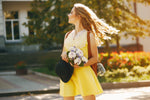 SUMMER HAIR TRENDS 2019
It's a brand-new year and nothing screams new you more than a new hairdo!
After a month of fashion week runway walks, the 2019 hairstyle trends have taken its toll. If you've been anxiously waiting to say New year, New you then welcome to the club. Whether you ready to chop or not, 2019 is finally here and is the perfect excuse for some changing up. What better way to celebrate new beginnings than with a brand-new look?
Hair trends are ever changing and it's our duty to make sure that we move with them and not against them. From pretty braids to natural waves – here are a few summer fresh hairstyles to look out for this year.
The wet look
The point this season is for your hair to be as bright as your highlighter.
This is probably the most influential 2019 hair trend! The trick to a great wet look is NO WATER just oil. To create the wet look without making the hair greasy try layering on more than the usual amount of oil that you would normally use but also not too much so that your head looks like a grease ball.
Sleek and restrained updos
Sleek is back! Whether you're attending a formal affair or just feel like going up then this could be the way to go. Precision high top ponytails, half updos or picture-perfect buns with an extra added shine are what's happening right now. Finish off perfectly with some lightweight ultra-gloss shine spray.
Soft natural waves
Wet or not, nothing is easier and sexier than tousled loose beach waves. This is a tricky trend that has been making its way on the runway this season. To achieve this effortless beachy look is to take small pieces of hair and twist them with a curling iron, keep in mind you would need something to hold your hair that wouldn't leave it feeling sticky or stiff. Your best option would be to use a lightweight texture spray like….
Bangs
Want to freshen up your hairstyle with not much change? Try adding some bangs! Bangs will change the face frame of your cut and make it seem brand new. Always keep your face shape in mind when choosing a bang style. The two types of bangs that will really take off this year are baby bangs and the ever-famous curtain bangs. We have seen many baby bangs hitting the runways this past season and are sure that they are going to make a statement. Curtain bangs are the easier option as they're low maintenance compared to most other styles and looks amazing with any hair length whether it's worn up or down.
Braids
From Box braids and cornrows to long braided ponytails. These styles are set to be big this year and have been seen across multiple catwalks. Wear them low, long or with super shine. No matter the style they're taking our catwalks by storm.
The blunt bob
Fun, easy to style and looks great whether wavy or straight. We will see many of these this season. They haven't left the grid and are only looking better than before. This look is perfect for anyone with a heart shaped face or defined jawline. Bring out your face with the blunt bob cut by finding the perfect length for you.
Make your year even bolder with one of these trendy hairstyles. Do you need a chop or just a pretty little bang to make it all feel brand new? Speak to your stylist for some advice and tips on what style would suit you best. Let's make 2019 a year to remember and a year for some on-trend change!
     The blunt bob!                                      The wet look!                         Soft natural waves!                   Sleeked back!
  Curtain Bangs!                               sleek updos!                                  Braids!                                         Baby Bangs!
*Images sourced from Pinterest
Pop in at your nearest Style Bar hair salon for a new look or free consultation from a qualified stylist!
Click here for salon details and locations.