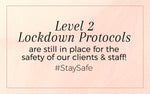 Level 2 Lockdown Protocols
We are happy to be back in the salon doing what we love most, however, we need to keep in mind that COVID 19 is still around so hygiene is of utmost importance during the duration of the lockdown period.
Safety is our top priority. Level 2 lockdown protocols are still in place for the safety of our clients and staff members and to help flatten the curve of COVID 19.
Level 2 protocols:
1. No Mask, No entry
Please keep your mask on at all times when visiting the salon. We urge our clients to please refrain from removing their masks once seated.
2. Sanitize hands before entering the salon
All persons entering the salon will need to sanitize using the sanitizers provided by the salon.
3. No Food or beverages
Strictly no food or beverages allowed in the salon.
4. Limited clients
There will be a limited number of clients allowed in the salon at once so please be sure to book your appointment in advance. 
We wish you all the best of luck throughout this struggling time and will do our best to help flatten the curve and keep our clients and staff members safe. 
#StaySafe