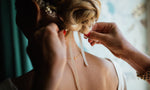 IT'S WEDDING SEASON!
With wedding season in full swing and everyone searching for the perfect bridal hairstyle, we have decided to help with some tips and tricks on how to go about achieving your big day hairdo.
Firstly, you need to gather some styles that you really like, creating a Pinterest board might be a good option. Secondly, you need to consider a few key factors like, does the hairstyle you are opting for work with your dress, face and accessories. Never make the mistake of choosing a hairstyle that does not suit your wedding dress. Always remember to choose your hairstyle after you have chosen your dress design.
DRESS
Keep in mind that your hair shouldn't compete with your dress but instead compliment it. Simple dresses require more drastic and outstanding hairdo's whereas extravagant and detailed dresses need a more subtle hairdo. When having a high neck or open back styled dress its best to go for an updo hairstyle. If you are choosing a plain, flowy open neck dress your best bet would be a down style.
WEATHER
Try and get a weather forecast for your big day. On hot days your best option would be an updo that's kept in place, believe me, you wouldn't want your hair sticking or frizzing halfway through the day. If you're having an inside wedding or the climates are a bit cooler, then those lovely curls wouldn't be a bad pick.
It's perfectly fine to go online and fall in love with bridal hair images but we need to ask ourselves these few important questions;
Is my hair able to pull off that look?
Is my hair long enough for an updo to last the entire day without falling apart?
Does the hairdo suit my face?
Does the hairdo compliment my dress?
Is my hair thick enough to provide that volumised look?
TRIAL
Get your hairstylist to a trial and consultation weeks before the big day so that you have over enough time to change your mind.
What to bring to your consultation/hair trial:
Image of your dress or dress style
Hairstyles that you like or have in mind
The hairpiece that you will be wearing on the day
Choosing between an up style or down style
WEDDING HAIR DO'S AND DON'TS:
Don't choose a style that you are not comfortable with
Do take images at your trial so that you can go home and think about it before the big day
Do bring a friend for advice and opinion
Don't do something hectic that you've never done before
Do consider your dress style and accessories when choosing a hairstyle
Don't cut or colour between your trial and wedding day
Do keep your hair nourished up until your wedding day
SOME HAIR IDEAS:
Deciding on a hairstyle for your big day can be a really tough decision. It's your big day and your choice so go ahead and do whatever will make you feel like a princess. Go crazy and browse all sorts of different options before your consultation so that you have time enough to make the right decision.
Style Bar offers free consultations before booking your trial and wedding day hair appointments.
Visit www.stylebar.co.za for store details.