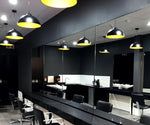 HERMANUS WELCOMES THE OPENING OF STYLE BAR
We bring the art of hairdressing to life!
Style bar continues to grow as we embark on our new journey of branching out into Hermanus.
We are thrilled to officially announce our most recent Style Bar launch in Whale Coast mall, Hermanus with some fabulous deals in the pipeline.
Despite being one of South Africa's most loved tourist destinations, Hermanus is an up and coming area that has made an incredible transition from being a holiday destination to becoming a thriving permanent residency. This growing community seeks more sophisticated product offerings for customers that are both residing and visiting the area.
With the up and coming developments, it shows just how much this area has grown. Hermanus has a massive opportunity for employment with a huge demand for tourists that are constantly visiting the town whether it be in or out of season.
"We felt that it was an opportunity to service our customers that frequent the area often. As many people are not only using Hermanus as a vacation destination but are now beginning to permanently reside in and around the town, I feel that there is a huge demand for upscale professional retail within the area." Says Vitorrio Rossililo, Owner of Style Bar.
Our team of skilled and talented hair stylists are constantly undergoing training courses at our in-house training academy on world leading brands such as Schwarzkopf, Moroccanoil, Kerastase, and Redken.
StyleBar constantly seeks new ways to improve customer experience, and challenges themselves to grow as a hair salon specialist. By seeing each new customer as an opportunity to learn something new we will always be one step ahead of the game.
Our stylists love what they do, and we ensure that they are kept up to date with all the latest trends, styles and colours so that they are able to bring to the table nothing but the very best.
Contact Style Bar Hermanus on 028 312 2981 or stylehermanus@gmail.com