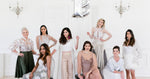 WE STYLE SOME OF SA'S FINEST
Style Bar had the incredible opportunity recently to work on a Campaign shoot for Marilize De Clercq, well-known personal stylist and style mentor. She celebrated her successful 18 years in the industry with a photoshoot featuring 7 stunning models from her wide variety of glamourous clients and friends.
The venue for the shoot was the Ballroom at the exclusive Val De Vie estate. We prepped our stations with all the tools and styling aids needed  to take on the models. Our brief was Modern Glam, channelling celebrities featured in Vogue's famous front cover shoots.
Using Nak products to finish, hold and add shine to the models' gorgeous locks, the favourite product of the day was the Aromas Oil and High volume spray. With MAC make-up artists by our side, we achieved incredible looks fit for a queen.
The day was captured by director Desmond Denton from Imagenheart who will create a short film of this milestone and collaboration. This video will be released towards the end of the year on our Facebook page and here on our website.
After Marilize had perfected the styling, the brilliantly talented Claudia De Norbrega shot gorgeous image after image of the already stunning models. The women worked so beautifully together – and the proof is in the images. We look forward to many more collaborations together.
Visit our site and find a list of branches and contact numbers on www.stylebar.co.za. To see the full range of NAK range visit www.nakhair.co.za. They are passionate about creating innovative and versatile hair care products for the professional hairdressing industry, salons, stylists and consumers.