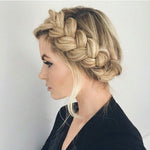 OUR TOP 5 BRAID LOOKS OF 2017
Now, we know these little suckers are tricky business and most of the time we land up with cramps in our hands and fingers, but the results are worth it. Plus, we can always rely on a few bobby pins to keep strays in place.
Give these styles a go this weekend. Some may require a little more help – maybe a friend or two to help hold things in place – while you perfect your stylish look.
1. Halo braid
This is super elegant, but be sure to keep it away from looking too Princess Leia by keeping the braids thicker and actually around your crown of your head rather than closer to your ears.
Try it:  Make two pigtails on either side of the nape of your neck. Plait and spread out to add volume (pin as you go around). The longer your hair is, the better.
2. Braided fringe into pony or bun
This is the perfect solution to a bad fringe cut (and no-one needs to know what's hiding in that braid).
Try it: Take a section from the highest part of the arch of either one of your brows, and make a lovely deep parting. Pick up pieces as you go along, aiming towards the crown of the hair. Finish off with a big messy bun or even a teased ponytail to add volume.
Tip: We suggest tying the braid off before creating a bun or ponytail – just in case this part doesn't work out the way you want it to and you have to redo everything. Letting that braid loose could be the end of it, and your patience.
3. Half up half down braid
There are so many variations of this beautiful style, and no wonder. Who doesn't want their hair off their faces during a busy day? We love this one for winter, as it tames the hair from frizzing in the damp weather whilst giving coverage in the neck area on colder days. Try out a few versions of this one to find the go-to quick fix option that works best for you.
4. Nape of the neck into a bun braid
We just love this one. Keep in mind, however, that you might need a professional to help – else you run the risk of getting a big head rush from trying to do it upside down (yes, we have tried it). This is so beautiful. We love the simplicity of it and how it transforms an average mom-bun into a super sleek and trendy do.
5. Side braid
This is a stylish update of the 80's classic – the side pony (you know you sported one if you were around back then). We love the doubled up version flowing from the top of your head all the way down to the bottom, but just a plain old side braid over the shoulder is just as gorgeous. The longer your hair the better. So if you have any clip-in extensions, this is the perfect style to use them (they should blend seamlessly and add that Mermaid hair-look that we all dream about).